Thrival Kits™ is a program delivered by teachers to any Manitoba student in grades 4 to 6 (aged 8-12 years), designed to promote mental health and well-being using evidence-informed strategies and activities. The physical shoe-box size kit is seen much like a survival kit, however when considering its' learning outcomes like strengthen social-emotional skills it only seems fitting to recognize it as an opportunity to Thrive. Thrival Kits™ can be facilitated both in English and French.
This program was created within the social-emotional learning outcomes of grades 4 – 6 students. In addition to this, the program is specifically created to allow the classroom teachers to be the facilitators. This practice allows the program to build from the strong bond students have with their classroom teachers, and in turn, making it more impactful. Because it was co-produced with Manitoba Teachers and educators, it is a program that is easy to follow and flexible to fit teaching schedules.
In 2019, Thrival Kits™ received a significant financial investment from the Government of Manitoba. This investment has allowed us to deliver approximately 30,000 kits each year beginning in 2020 until 2022 at no cost to Manitoba schools. In the 2022-23 school year, we have been able to deliver over 35,000 kits to students and their classroom teachers and we are poised to potentially reach 40,000 students in the 2023-2024 school year. Thrival Kits™ have been used in 36 of the 38 Manitoba School Divisions. The investment is the facilitator's time and dedication to the program, which includes responding to evaluation surveys.
Thrival Kits™ is committed to excellence. Please send any suggestions for improvement to us. Your feedback will help us improve the Facilitator Guide, activities and resources of the Thrival Kits™ and, most importantly, will ensure the best possible mental health outcomes for children and youth.
Contact us at:
info@thrivalkits.ca
Enrolment opens early fall every school year. Once registration is open, visit:
www.thrivalkits.ca
and click on the registration tab to complete the form.
Generally, the supplies for Thrival Kits™ will arrive 2-3 weeks after your order date depending on the location of your school. Upon registering, you will receive confirmation of your enrollment and a tracking number from the project coordinator.
In order to remain consistent with the fidelity of the program, we recommend only enrolling your grades 4 – 6 students in this program. Thrival Kits™ was developed with the social-emotional development of grades 4 – 6 students in mind. If you are looking for programming for grades K – 3 or 7 and up, please contact
info@thrivalkits.ca
for further support.
Thrival Kits are to be sent home with students to encourage the daily use of mental health promotion strategies at home and throughout the summer.
If you are struggling with a specific theme, we encourage you to consult the materials provided in the facilitator hub on our website. If you find this is not what you are looking for, please contact info@thrivalkits.ca or a member of our project team with your questions and concerns.
Research shows that educator well-being is critical to teacher effectiveness, student outcomes, and positive school climate (Hascher & Waber, 2021). The Care for All in Education (CFAE) (a Canadian Mental Health Association initiative) are resources developed to promote the mental health and well-being of every employee in the education sector in Manitoba schools. These resources and programs support recovery and promote wellness in response to the current, emerging and diverse mental health concerns of the education sector. Access to the resources and programs are free and available to all. There is a web portal and school-based workshops. Connecting to the CFAE is accessible by chat, telephone or email.
Yes. Repetition is encouraged to embed mental health practices and rights-based knowledge into the daily lives of students. Every year, students will receive a new student kit and teachers will receive a new facilitator kit in order to engage in all activities.
All of the material is located in the Engage and Exchange Hub. If you have created a facilitator account on our website (thrivalkits.ca) you will have access to the facilitator guide, along with other material and videos that you can use as you implement Thrival Kits™ in your classrooms. Included are some screenshots in order to help you locate how to create a Thrival Kits account.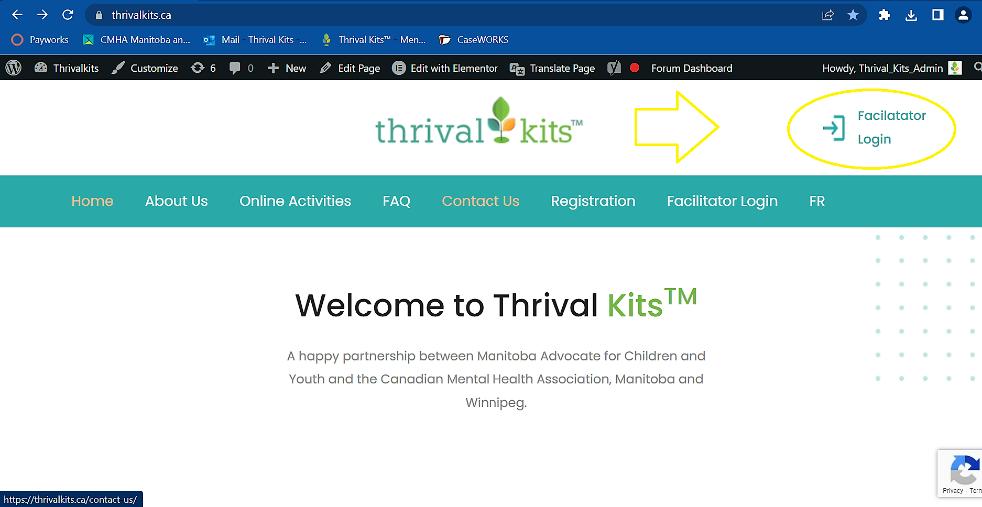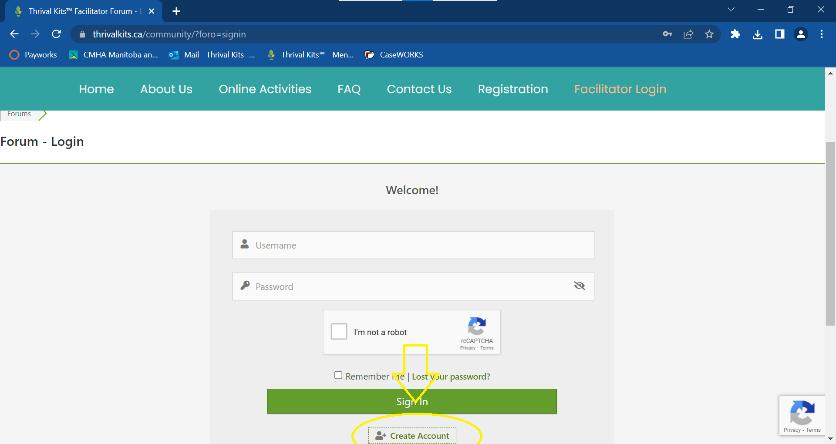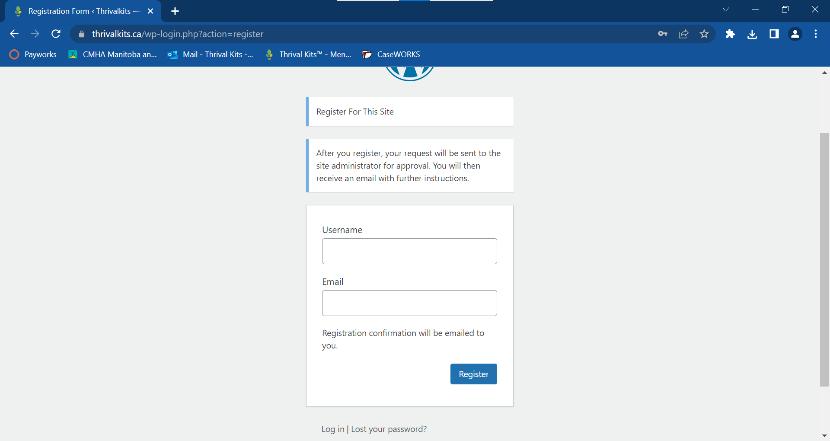 Below is a video (30 seconds) demonstrating how to create your Facilitator account: Thrival Kits - Creating a Facilitator Account - New Account - YouTube
Once you have created your account, you will be able to access all the facilitator materials; including the facilitator guide, resource bundle, and videos that accompany some of the lessons. Below are some screenshots demonstrating how to locate these materials.
In the engage and Exchange Hub, there will be tabs on top of the page (Forums, Members, Recent Posts, etc). The last tab on the right will say "facilitator materials." If you drag your mouse onto that tab, a drop-down menu will come up and this is where the facilitator guide will be.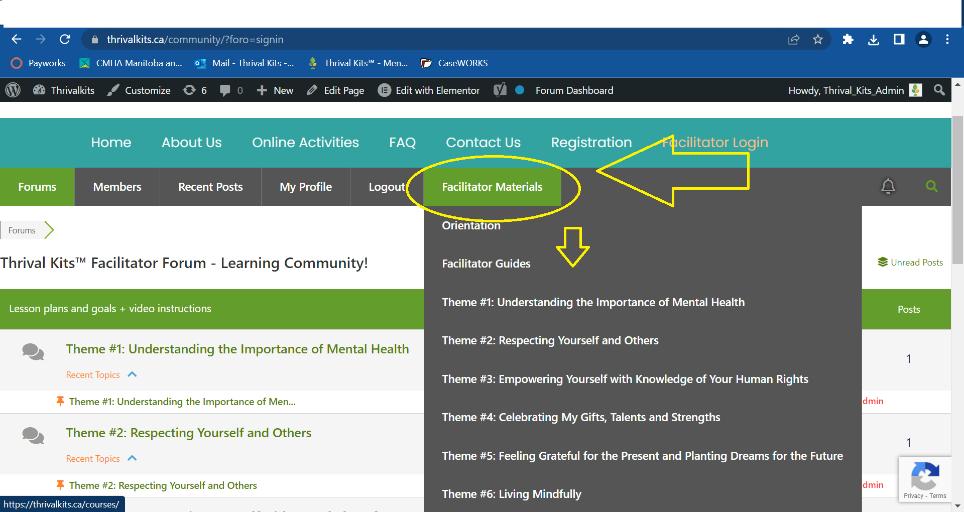 If you click on each theme, it will bring you to a page which includes an activity list, which corresponds with the activities in the facilitator guide. Click on the desired activity, and you will see the audio/visual component you can use for that specific activity.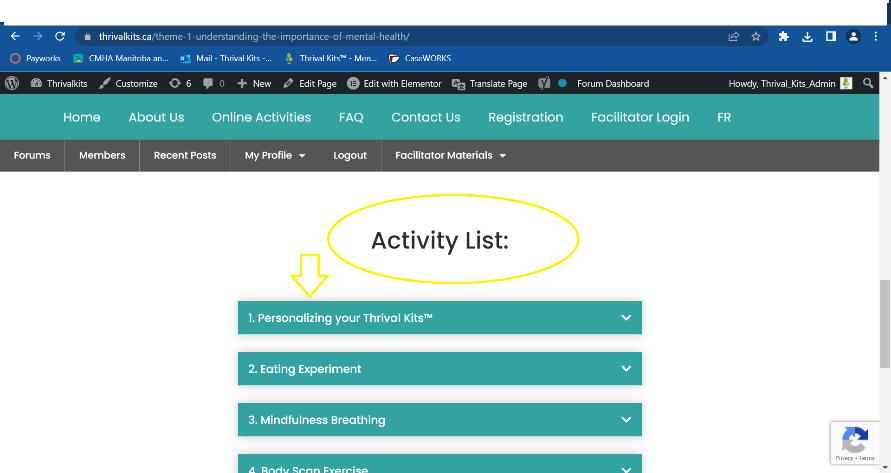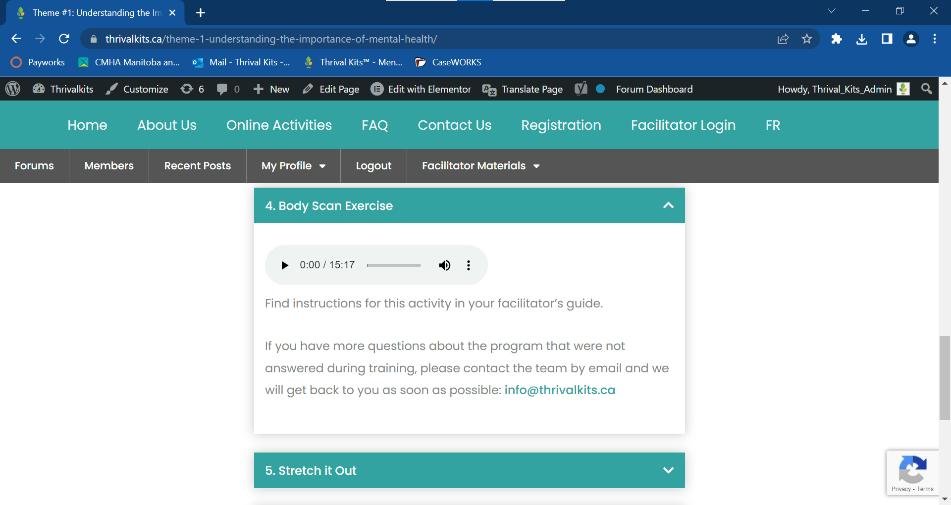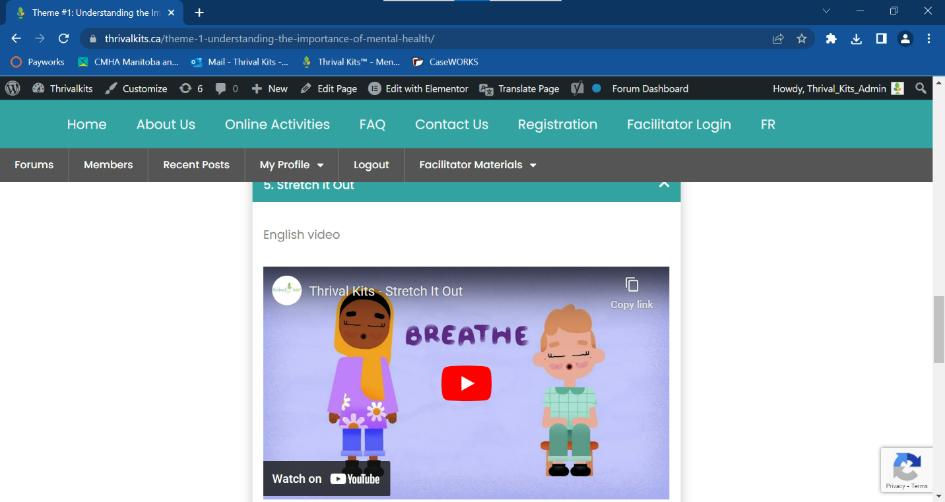 Interested in Thrival Kits?
Fill out the form on the right and one of our staff will contact you.